Good morning! Please see attached photo with the release times for this coming week, Monday Sept 18th - Friday Sept 22nd.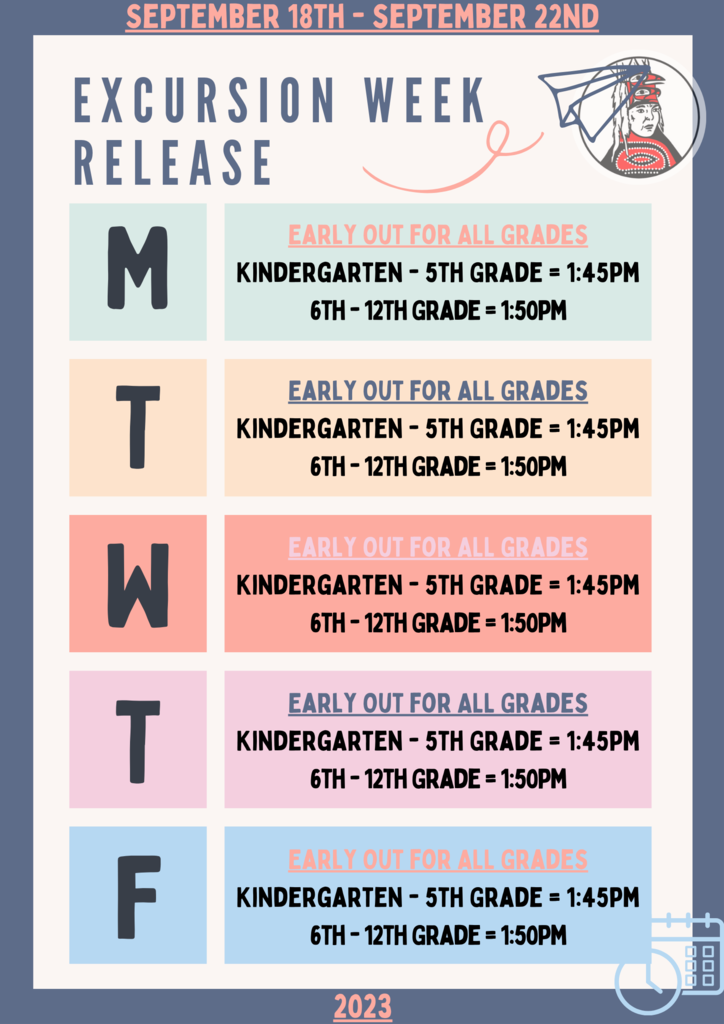 Back to School Night is scheduled for Tuesday, Sept 5th, 6:00-7:00PM Reminder there is no school on Monday, September 4th, enjoy your 3 day weekend Chieftains! High School Cross Country home meet Saturday, Sept 2nd, boys start at 11:15am

MIGRANT ED SUMMER SCHOOL ALL KLAWOCK SCHOOL K-12 STUDENTS ARE WELCOME! JULY 31 - AUGUST 11, 2023 MONDAY - FRIDAY 8:00 AM - 1:00 PM Please text Michelle Beito if planning to attend: 701-330-7896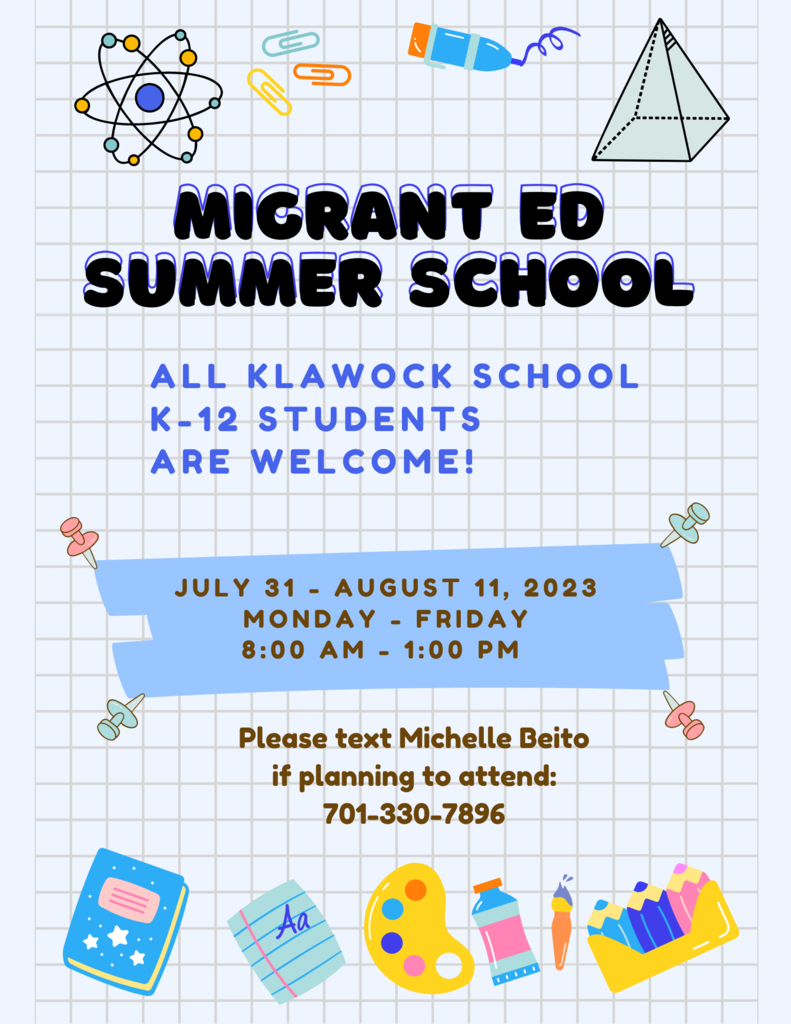 Happy Holidays! School resumes, Tuesday Janurary 3rd Enjoy winter break CHIEFTAINS!


Good afternoon families, please read a letter from Principal Beito by clicking on this link:
https://5il.co/1lvmt

Hello Families of our Chieftain Children! Just a rminder that our students go out side for recess everyday. The weather has turned quite cold and it is important that your child be dressed warm enough to enjoy some crisp fresh air and exercise! Thank you very much! Stay warm! Michelle Beito

Klawock School is going to participate in the Great Alaska Shake Out this year. It is a statewide initiative that raises awareness on what to do if we ever experience an earthquake and/or tsunami. Our students will practice safety protocol for an earthquake and then walk to our designated tsunami location, which is the Salvation Army Church. This drill will begin at 10:20 on Thursday morning. If you have any questions or concerns, please call the office at 755-2220. Here is a flyer for information
https://5il.co/1jh65

Here are some things that are corrected from what was sent out in the registration packets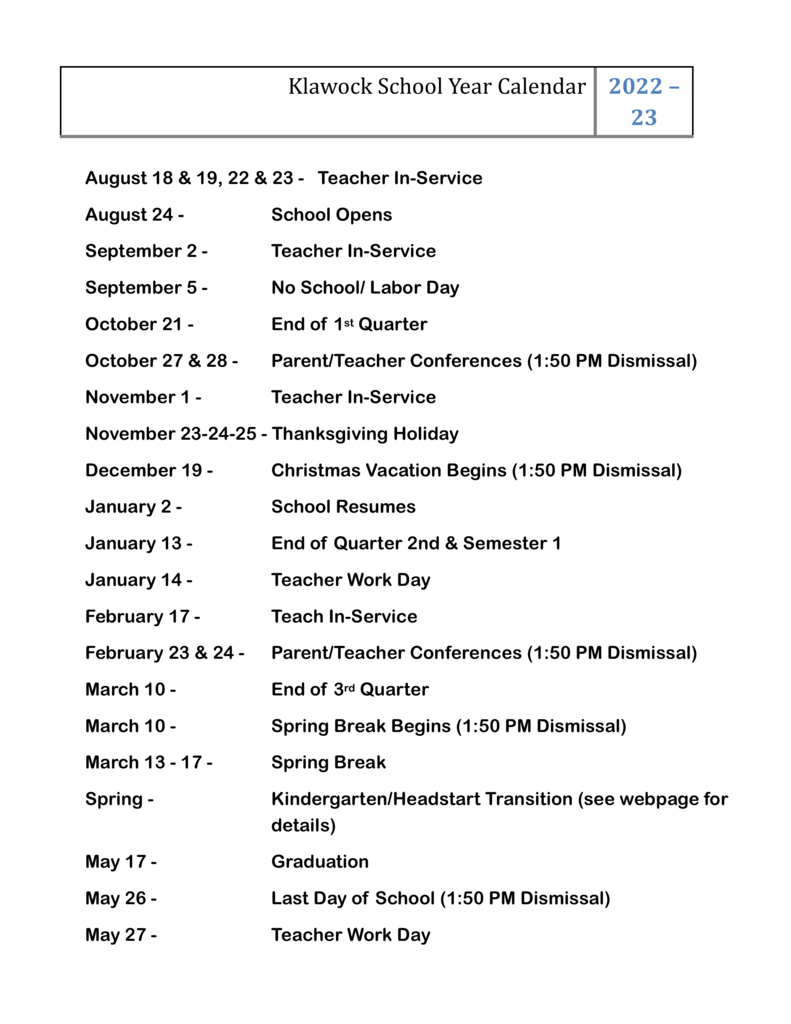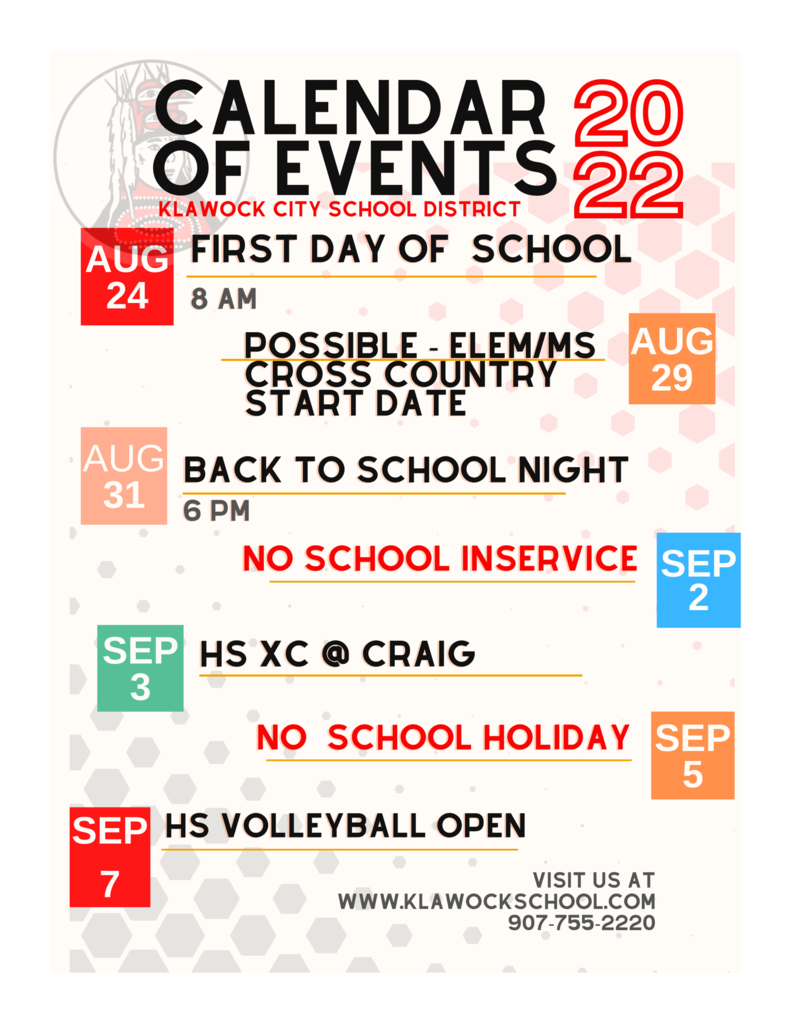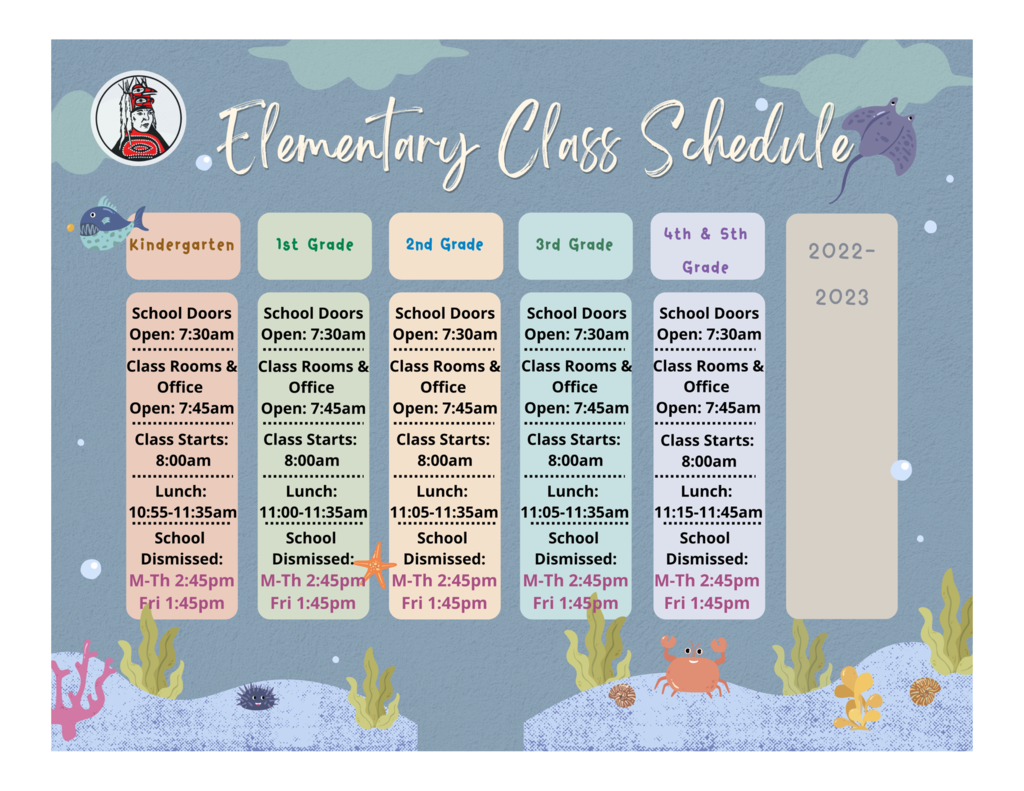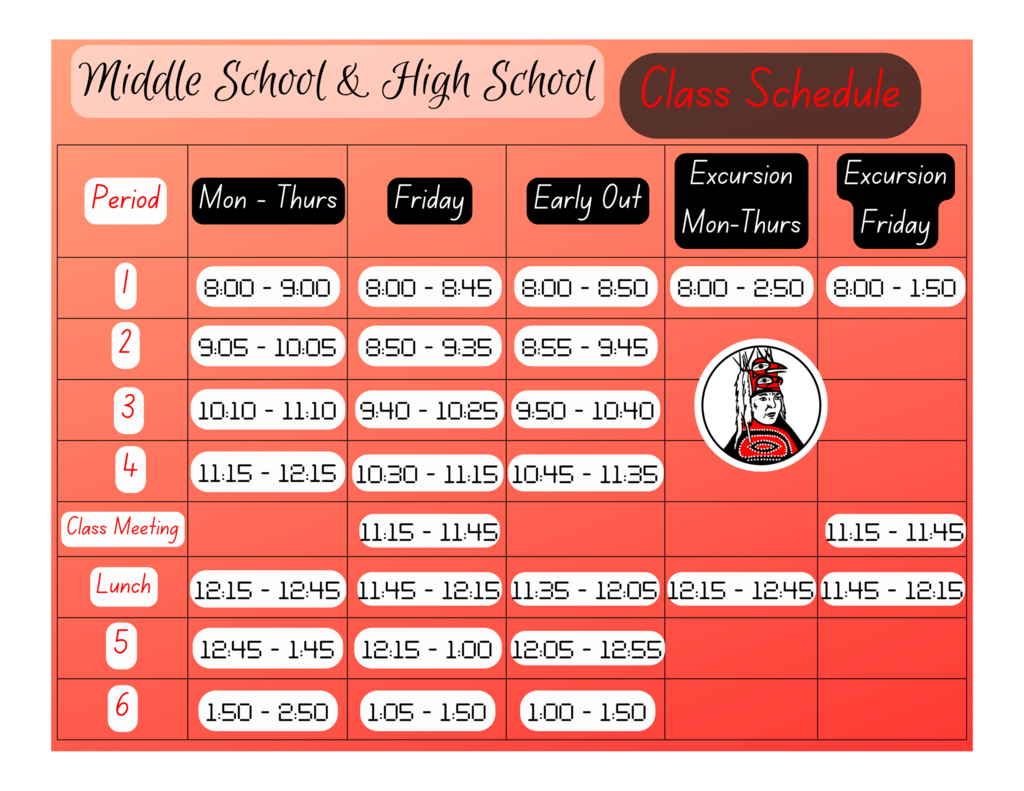 The Summer Food Service Program is back! Children ages 0-18 can come into the cafeteria and dine free of cost. We cannot provide grab and go lunches as we did with COVID. Click on link for flyer:
https://5il.co/tssm

Hello Elementary Families! A reminder that tomorrow, Friday the 13th, is our Elementary Minecraft event. All students in grades 1-6 are welcome to join us in the library from 3:30 to 5:30. For this event, students must bring their own device and log in information in order to play Minecraft. Pizza will be provided. Hope to see you there!

Elementary Cool Cat Cafe Thursday, April 28th 6:00pm Gym, open to the public. Students be there by 5:50pm


Community Members, Parents, and Staff, the School District is considering implementing a program that will provide additional opportunities for our youth in the area of resiliency and in career/ college preparation. By completing this brief survey you will help us identify needs so that we might better serve your children. Thank You in advance for your assistance.
https://www.surveymonkey.com/r/THRIVE_2022

8:00AM Monday, March 21st school resumes and masks will no longer be mandatory. Enjoy SPRING break! We can not wait to see smiling faces upon our return to school.

Early Out Today, Thursday February 24th. Kindergarten @ 12:30pm 1st through 12th @ 1:40pm

Congratulations to Rainey and Mrs. Dougherty! They entered ASTE's iDida Contest and won $100 for their entries. Great work!


Ninilchik Invitational Basketball Tournament February 17th-19th Thursday - February 17th 2:00 - Girls - Klawock vs Bristol Bay 3:30 - Boys - Klawock vs Bristol Bay 5:00 - Girls - Tri-Valley vs Ninilchik 6:30 - Boys - Tri-Valley vs Ninilchik Friday - February 18th 2:00 - Girls - Tri-Valley vs Bristol Bay 7:30 - Boys - Tri-Valley vs Bristol Bay 5:00 - Girls - Klawock vs Ninilchik 6:30 - Boys - Klawock vs Ninilchik Saturday - February 19th 10:00 - Skills Contest 11:00 - Girls - Tri-Valley vs Klawock 12:30 - Boys - Tri-Valley vs Klawock 2:00 - Girls - Bristol Bay vs Ninilchik 3:30 - Boys - Bristol Bay vs Ninilchik