August 23rd Klawock School Update Due to increased COVID cases and potential impacts on Klawock School, the start of school is being pushed back one week. The first day of school is now Wednesday Sept 1st . This is a difficult decision as KCSD knows the importance of having students in school. This delay will provide the district needed time to identify possible cases and make sure we can safely start school for our students. If you have questions, contact Jim Holien at the school. 755-2220 Thank you for your patience and flexibility as we start up the new school year safely.

To Klawock School Parents and Community Members: Please find the DRAFT FY22 KCSD COVID Mitigation Planhttps://5il.co/x602 for the upcoming school year. We continue to adjust this plan based on current information and expert recommendations. The biggest changes in this plan compared to last year's Smart Start Plan is the removal of case numbers for low/intermediate/high risk levels. This plan will mainly look at how cases may directly impact KCSD and our community, not just a total number across the island. Attention for "community spread" cases will be given as they pose a larger threat to our school and community. KCSD will do everything it can to safely get and keep students in school as much as possible. There is no doubt this is important for our students and families, at the same time we need to make sure it's safe for our students, staff, parents, and community. KCSD appreciates your patience and understanding and we start to work through what looks to be another year impacted by COVID. Please provide your input on the survey provided.
https://forms.gle/ZDsrdo6iKbQ4JMZp6


Summer Lunch Program is happening Now!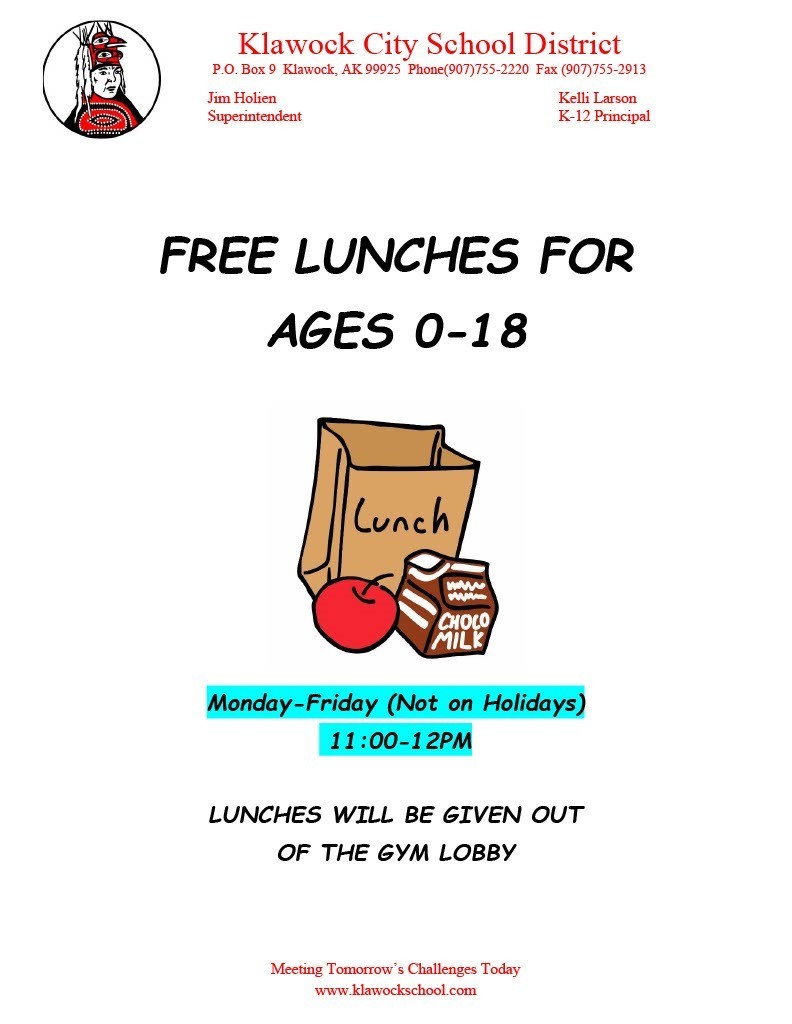 There will be no lunch services next week, May 31st - June 4th. Lunch will resume Monday, June 7th.

Klawock School Library invites you to the annual Summer Reading Program, please click on the link for the flyer and details.
https://5il.co/t769



SEARHC would like to make the Coronavirus vaccine available to our 12+ student populations on POW as soon as the vaccine is approved for use in that age group. It is predicted at this time that the Pfizer vaccine will gain FDA approval to expand its use to the 12+ population by the end of next week. We will obtain a supply of Pfizer vaccines to offer this expansion of vaccine coverage as soon as possible after this approval goes into effect. In preparation and planning for these vaccine clinics we need to get a good estimate of the number of youths to vaccinate to limit vaccine wastage. If any families in your school district would like to have their 12+ yr old registered, they can visit
https://covid19.searhc.org/
and use the link there to register.

UPDATED Klawock School Announcement April 23rd, 6:30 PM Good evening. Due to recent COVID information directly relating to Klawock School, starting Monday April 26th we will be operating in RED. Students will be working from home until further notice. We are hopeful this is a temporary arrangement and we can get our students back into the building safely soon. Have a good evening.

Here is the yellow and excursion schedule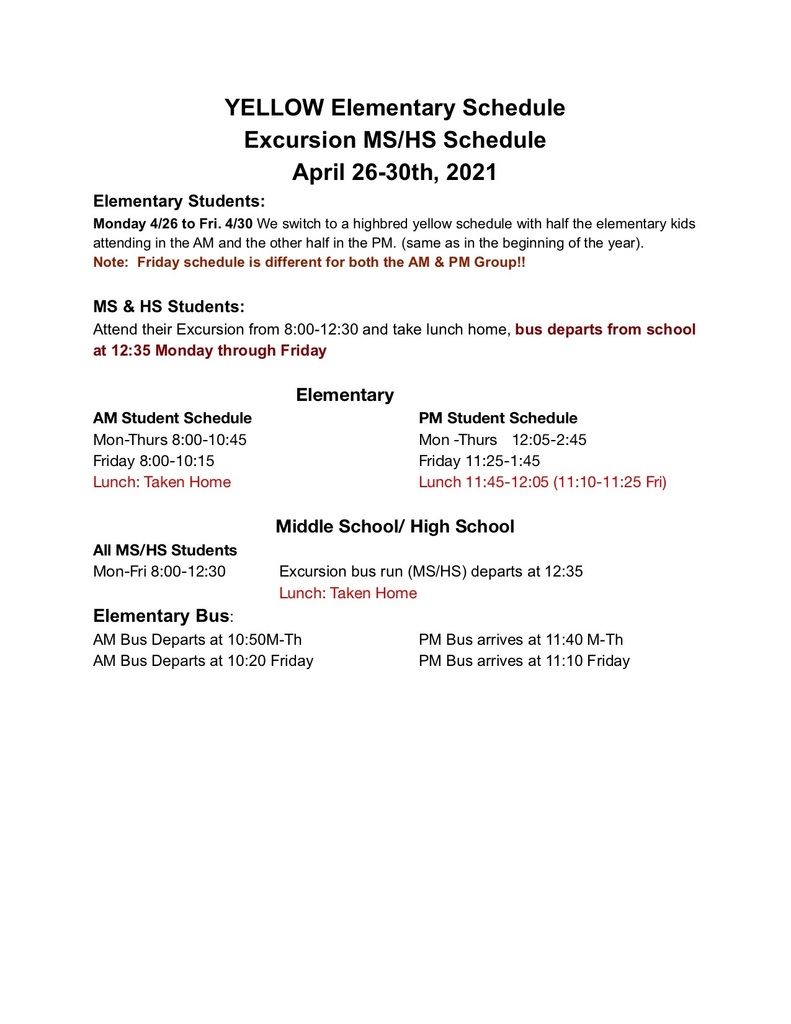 Klawock School Announcement April 21st, 2021 Klawock School will be operating in RED protocol for the rest of this week (Thursday and Friday). This means students will not be coming to school, but will be working remotely from home. All KCSD events are cancelled for the rest of this week. There will be no after school programs or MS/ELM basketball practices as well. If students need materials from the school, they can come to the covered play area starting at 10AM until 2 PM to get what they might need for the next couple days. All middle school and high school students need to check their school email to access their work and assignments. KSCD will provide lunches to be picked up at the school (covered play area). Lunches can be picked up starting at 11:30 AM until noon. Although we are still in GREEN at the time of this notice, we anticipate this may change in the next couple days. Based on the information we have at this time, we feel it's best to see what the impacts of the recent positive COVID cases have on our school and community. Out of caution to protect our students, staff, and community we are not having in person school for the rest of this week. KCSD will update students, parents, staff, and the community this weekend regarding school next week. We realize the importance of making our plans known early so you can plan, but also the importance of using up to date information because things change so quickly. We appreciate your understanding. Feel free to contact Kelli Larson or Jim Holien at the school if you have any questions.

There will be no SFSP free lunch provided by Klawock School tomorrow Wednesday April 21st, 2021.

Klawock School Announcement Klawock School received news today of some new cases of COVID on Prince of Wales. Out of an abundance of caution for our students and staff, there is NO SCHOOL tomorrow (Wednesday April 21st). We have limited information at this time and we're hopeful we get more details by tomorrow so we can make a more informed decision on how to proceed. KSCD will send out information to students and parents by 3 PM tomorrow on how we'll have school the rest of the week (Green, Yellow, or Red). To summarize, school is cancelled for tomorrow, Wednesday March 21st and we'll communicate how we'll proceed by 3 PM tomorrow.

Updated High School Chieftain Basketball Schedule Please click on the link for the PDF
https://5il.co/pb8o

Klawock School Update 12-31-20 Happy New Year from Klawock School! 2020 was a year we will not soon forget, but we're confident that 2021 is going to be a great year. The KCSD Smart Start Plan has been updated. The plan is now using a 10-day window (instead of 14 days) when looking at positive cases. School will operate in GREEN (low-risk) when there are 0 to 8 cases on POW island. YELLOW (intermediate-risk) when there are 9 to 15 cases. RED (high-risk) when there are 16 or more cases. Additionally, if "community spread" cases total 4 or more, that could lead to moving into RED until those "community spread" cases drop under 4 again. School resumes on Monday January 4th. We are currently in the GREEN risk zone and unless this changes over the weekend, we're planning to start GREEN next Monday. Have a Happy and Safe New Years!

Changes to KCSD Smart Start Plan This is a notice to inform our parents and community members of a possible change to our existing KCSD Smart Start Plan Please feel free to contact Jim Holien if you have any questions or concerns. Click on the link for the proposed change.
https://forms.gle/pQZ9snW1PW7ix4QX6

Helpful hints for distance delivery education. Please click on the link for the document.
https://5il.co/nu7i

Klawock School Update Due to an increase of COVID cases on POW, Klawock School will be in High Risk (RED) status through December 18th. Holiday break is Dec 21st to Jan 3rd. School will resume Monday Jan 4th. We are hopeful we'll be able to have our students in the building at that time. We will post updates if and when anything changes. Stay Safe!

Hello all, here is your child's Zoom meeting schedule for the next 2 weeks. Their invitations will go to their email address.
https://5il.co/no2k